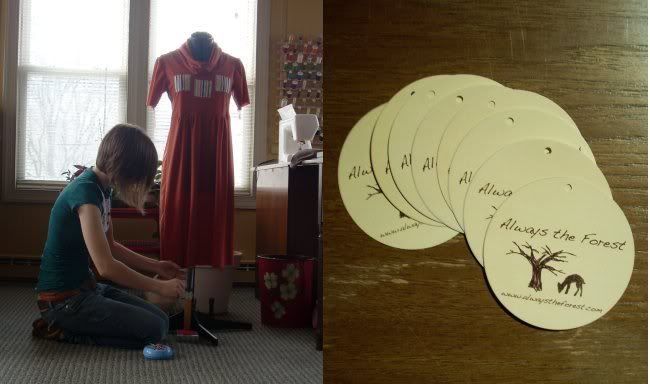 Craft show season is almost here, and we've been very busy with production. We have some great new designs coming soon. In the picture on the left, I'm hemming one of our new dress designs, which still has yet to be named. So to keep things moving right along, I've given myself a working schedule, lunch breaks and everything. I'm the type of person who works well within a schedule, and it doesn't make crafting/sewing/designing any less fun.
Our new clothing tags came in, and they look pretty spiffy. Designing the little things like promos, business cards and clothing tags is one of my favorite parts of this business. This year I decided not to print and cut them all out myself, that took way too long last year. I ordered them through
kittycrossbones.etsy.com
. She has a wide variety of promo items, including stickers, buttons, scratch-offs, and mirrors. The prices are pretty reasonable as well, and buying indie is also a plus!