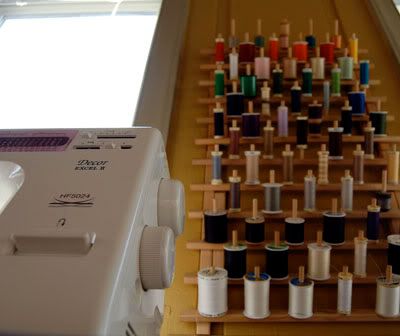 Now it's already March, but I've been pondering and reflecting my goals since January. But before we do that, let's see how I did on meeting my 2008 goals:
1. Accept credit cards - DONE! I set up an account with ProPay in July, and my sales have more than doubled.
2. Streamline our products - DONE! (sort of) I have limited the collection to a few designs, and this has allowed me to offer sizes XS-L. I also cut out all the vintage offerings. But…this year I am also going to be doing Michigan-themed shower curtains…not exactly keeping with the desire to streamline. I think I'm okay with that for now.
3. Do more shows - DONE! I did six shows last year, surpassing my goal of four. This year, I would like to do even more than that, maybe make it to ten?
4. Update the site and
blog
more - FAIL! I made a whopping 11
blog
posts in 2008. That's not even once a month! How embarassing. And it's not due to lack of content either, I have a huge list of things to write about. I need to stick to a schedule.
Overall, I feel like 2008 was a very good year, full of growth and productivity that went above and beyond the goals I made. When I started off in 2007, I had no idea that I would be doing one of the Renegade Fairs the next year, or have my clothing in a store. Now onto 2009:
1. Update the
blog
more - Seriously, like I said above, I am awful at updating this thing. This year, I will set a schedule for myself, and try my very best to stick with it. I am going to
blog
every Tuesday, and if I really get the hang of it, maybe every Tuesday and Friday. I have a list of things I want to write about, and even if it's just a craft show announcement, I feel like there should be no problem in meeting that goal.
2. Do a fashion show - I have seen a few other indie fashion designers that have done this, and I'm not quite sure how to go about doing it myself. I know waiting for an invitation is never a good idea, but I'm at a loss where to even start. But that's how most of my endeavors start off anyways, so I will just have to figure it out.
3. Continue to do more shows - I did really well with this goal last year, and I'm going to try and do even more this year, maybe ten?
4. Get my clothing in more stores - Currently, my clothing is for sale in only one store. I need to start contacting more stores, but that's the hardest part for me, putting myself and my designs out there. It's something I will have to work to overcome this year.
I'm on the right foot, this is my first Tuesday
blog
of the year. Stay tuned for another
blog
next Tuesday, and hopefully you'll see my goal-achievement in action!