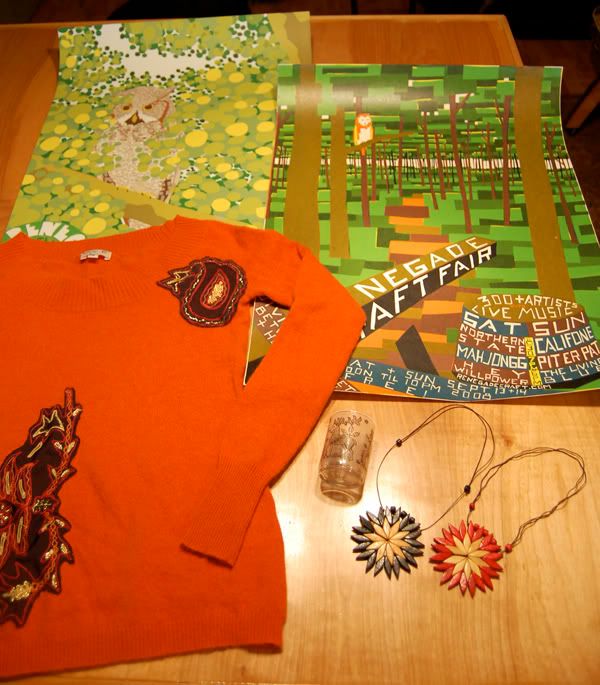 The Renegade Craft Fair in Chicago this weekend was awesome! This year, the weather was awesome, and the selection of vendors was even better. There were a lot more handmade clothing vendors, and I was really excited about that. Sunday evening, I got a chance to walk around and chat with some of them. I talked with Marie from
Les Enfants Sauvages
about traveling to far away shows, visited the
jo clothing
booth to check out some cute underwear and chat about Brooklyn, dished about being Polish with
Pierogi Picnic
, and was totally inspired by how Lesley of
Squasht by Les
runs her business. I'm so glad I had my mom as my booth helper so I could get a chance to walk around.
And we can't forget about the excellent loot I procured. I traded a top for a cashmere sweater from
Elsie Q
, got this year's and last year's poster for the Renegade Craft Fair Chicago from
Mat Daly
, a little glass to hold my bobby pins from
Mary Ink
, and two cute balsa wood necklaces from
Greenola
. We ate very well, with yummy breakfast and lunches from the
Milk and Honey Cafe
, and frozen kefir(!) from
Starfruit
. The only bummer was that I got a parking ticket, but that was nobody's fault but my own. I'm definitely really happy that I got a chance to do this fair again!