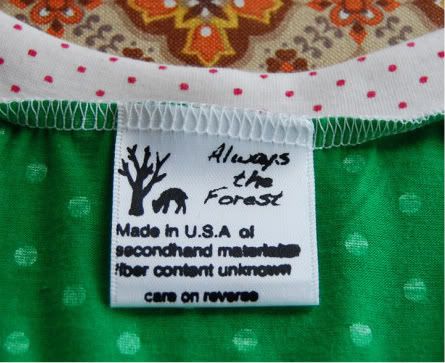 I've been meaning to do a post on the topic of labeling requirements for for a few months, first because it's important, and second, look how cute they are! But first, a disclaimer: I'm not a professional law interpreter, this is just what I figured out by reading the guides published by the FTC
(here
) and
(here
). So if you know better than I do, and spot any misinformation here, please let me know!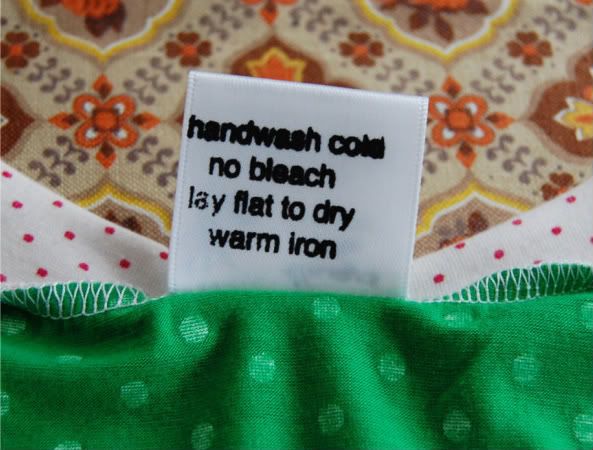 When I first started making labels to put inside my clothing, they just had my business name and logo on them. They were nice looking, but I suspected that I might be required to do more. After all, every single garment I saw in stores had care labels in them. So I did a little research, and found two really helpful guides:
Threading Your Way Through the Labeling Requirements Under the Textile and Wool Acts
and
Clothes Captioning: Complying with the Care Labeling Rule
. My suspicions were confirmed: even though I wasn't making thousands of dresses and only selling at craft fairs, I was still required by law to have care labels in my garments. I really recommend reading through both of those guides if you're looking for how to word your own care labels, because it could be very different, depending on what you make. It's a lot to read, but it's written understandably. I'll explain what I needed to include on mine.
All clothing labels need four things: manufacturer, country of origin, fiber content, and care instructions.

1. Manufacturer: Pretty straightforward here. I put my business name, Always the Forest.

2. Country of origin: You need to disclose two things here, where the materials are from, and where they are assembled. So if your materials are all from the US, and everything is assembled in the US, all you have to say is "Made in U.S.A.". If your fabrics are imported, you would say, "Made in U.S.A. of imported materials. In my case, since my fabrics are all thrifted or remnants, I usually can't say for certain where they are from, so I would have to write "Made in U.S.A of secondhand materials"

3. Fiber Content: If you know what your fiber content is, you need to be pretty specific here. I had a slight "ahhhhh oh no oh no!!!" moment when I realized that I had no way to determine the fiber content of my fabric. Upon further reading, I found that you can simply disclose the fact that you don't know the fiber content. I put "fiber content unknown". Much easier than I thought.

4. Care instructions: There are many different things you might have to include here, depending on your materials. If it's not "dry clean only", you need 1) washing instructions (like water temp, gentle cycle), 2) bleach info (yes or no), 3) drying instructions (temperature) and 4) ironing instructions (temperature). Also, if there are trims or decorations that need special care, you need to include that as well. For my labels, I wrote "handwash cold, no bleach, lay flat to dry, warm iron".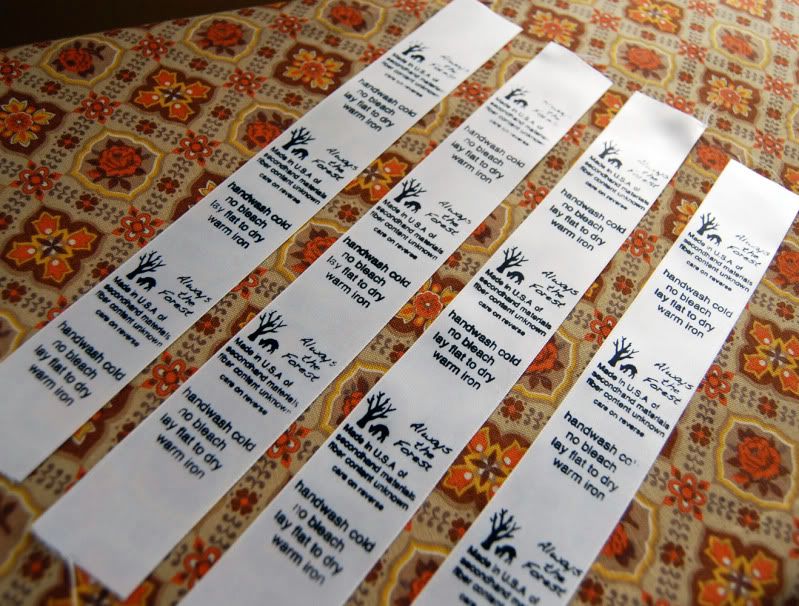 After I waded through all that information, and figured out what I needed on my labels, I had to figure out how to get them made. I looked online for some label making options. Most companies I found had high minimums (at least 1,000), and at the time, that seemed like wayyy too many. On etsy.com, there were a few places that had low minimums, but I didn't see any that I liked. I didn't really care much for the look of woven labels, and the printed ones seemed like they would be too stiff. So I decided I would find a way to screen print my own. I made a screen that had rows of my label image, front and back. Then I found soft ribbon to fit, and aligned them under the images on the screen. After I printed the images on the ribbons, I cut them apart, and ironed them in half. Then they're ready to be sewn into the garments. So if you know how to screen print, or have a friend that does, you can make inexpensive and professional-looking care labels to keep your stuff legit. If you don't have those resources, you might want to experiment with using iron-on paper on the ribbons. I've also heard about printing directly on fabric, but you should test it out in the wash first, because on of the requirements is that the labels have to last though washings. If you make your own labels, share how you do it in the comments. I love seeing handmade labels, it's so neat!