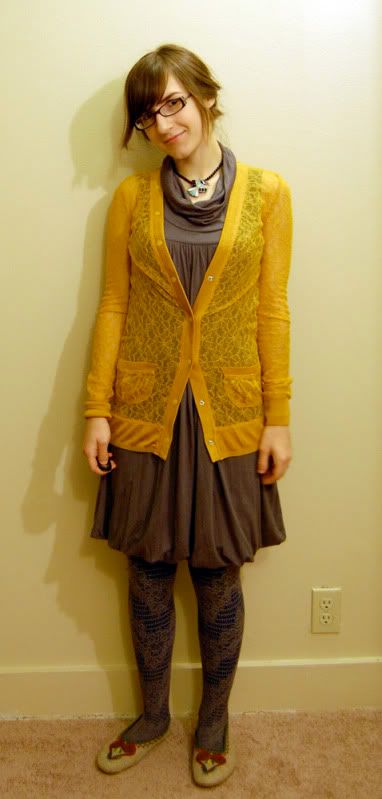 Style Friday! This is going to be a weekly series documenting personal style.
My resolve for this year (and forever): To not buy a stitch of brand new clothing. If I want something, I have to make it myself, out of recycled materials.
It's kinda shameful how many pieces of clothing I own that are from Target or some other unethical offender. I know, I know, you're probably thinking "but Stephanie, you make all the clothes you sell out of recycled materials. How is that possible!" It's my secret, frivolous vice! I know how wrong it is, I know the harmful and far-reaching, earth-devastating, worker-devastating effects...I'm awful! I'm putting a stop to it right now. This first week is a cheat week, I didn't make anything in this outfit, it's just stuff I owned already. Next Friday will feature something I made.
And don't worry, I'm still going to be mostly writing about behind-the-scenes designing/sewing stuff. I'm not becoming a fashion blogger by any means, but I do think it's neat to see other people's styles every so often and thought I'd offer up my own once a week.
Outfit details:
Necklace- I put it together from another necklace and a belt I got at a garage sale.
Dress- Grey knit cowl neck and bubble hem dress, TJ Maxx
Cardigan- Mustard Lace, Rodarte for Target
Tights- Grey lace tights over teal tights, Parisian
Shoes- these are by far the coolest part of this outfit. My grandma gave them to me, she got them from Poland.