I use three different sewing machines for making clothing. They are: a serger, a coverstitch, and a regular sewing machine. They're all home-sewing machines, so they definitely have their limitations, but they do a fine job for now, until I have the space to upgrade to industrial machines.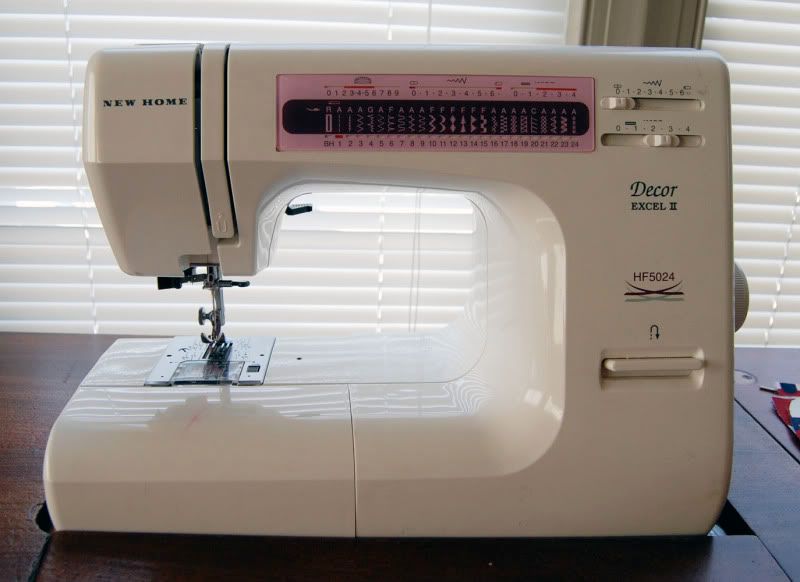 Machine #1- New Home Decor Excel II HF5024. I got this machine when I was a junior in high school. It is now six years old, and still runs really well. This is my basic sewing machine, I use it for topstitching, and most of my alterations work that I do outside of Always the Forest. It takes a bit of coaxing to go over many layers of thick material (e.g. some difficulty going over the side seam while hemming a pair of jeans) but if you sew slowly, it will make it through. It does a good automatic buttonhole. One trick I learned was to use the specific Janome bobbin (New Home is made by Janome) otherwise it doesn't sew as well. I used a generic bobbin or a singer bobbin for a year and was frustrated by poor quality in the stitches, but when I switched to using a Janome bobbin, the quality was soooo much better. I don't remember the original price of this machine, but I got it for $299 because they used it for a class once. Look for machines that were floor models or used for a class, and you can get a really good deal.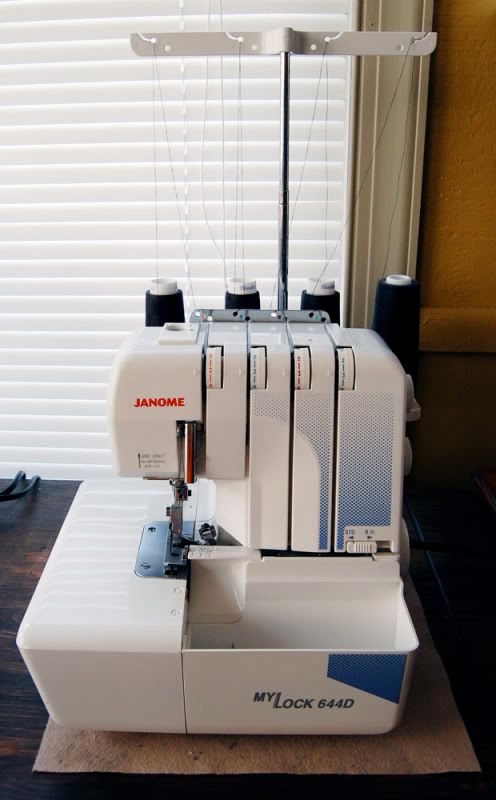 Machine #2- Janome MyLock 644D. Oh man, the day that I got a serger was the day that my sewing got ten times better. If you don't know what a serged seam is, look at the inside seam of any t-shirt. This machine is essential for anyone making knit clothing. I use this for all seams. It cuts, sews, and overcasts a seam all in one really fast movement. It can do a rolled hem and 2, 3, or 4 thread overlock. It's pretty easy to thread. The one drawback is that it has difficulty going through more than four layers of medium-weight fabric, and more than two or three layers of thick fabric. But other than that, it makes really nice, professional-looking seams. One thing to keep in mind when using a serger: don't run over pins! The bottom blade is a carbide blade that should last for a decade, but running over pins puts dents in it and it won't cut fabric smoothly after that. This one was originally $799, but I got it for almost half of that from my local sewing machine dealer when they were having an awesome sale.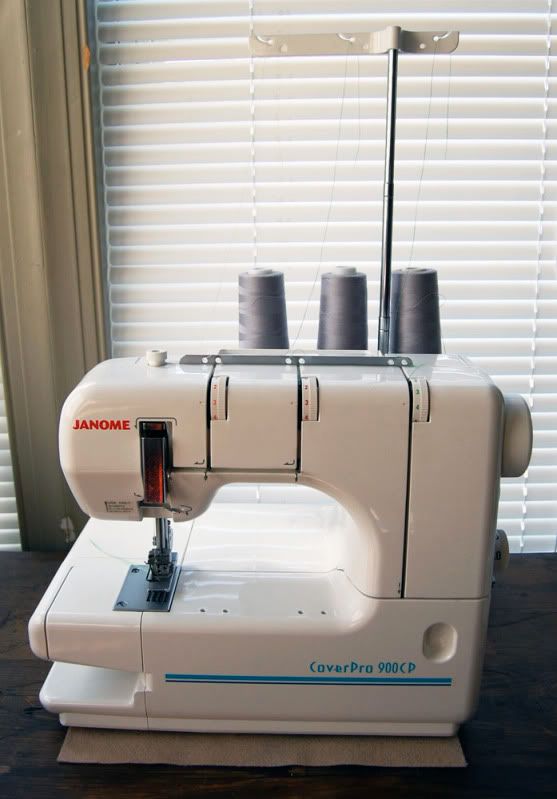 Machine #3- Janome CoverPro 900 CP. This is my coverstitch machine, I use it for hems on stretchy fabrics. If you don't know what a coverstitch looks like, look at the bottom hem of most t-shirts, you'll see two lines of stitching, and the raw edge of them hem is overcast in back. The coverstitch machine does that all in one movement. It also does a chain stitch, but I don't use that very much. It has a free arm, so hemming sleeves isn't a problem. Some sergers have the ability to do a coverstitch, but I recommend getting two separate machines. It's about the same price, but you save so much time not having to switch the machine from one function to the other. I don't remember the price of this one, but I think it was a little less than the serger.
I also have a blind hemmer that needs some adjustments before I can sew with it. That would make some of my alterations work a total breeze.
On my wish list: all industrial machines! They're fast and powerful. The drawbacks of using home machines are that they're kinda slow, and they have difficulty sewing through many layers of fabric. Not so with an industrial. Drawbacks of industrial machines are: size, noise, and price. The noise wouldn't really bother me, but we have no space for them in our apartment right now.
Another thing on my wish list is some sort of way to apply bindings to the necklines of knit clothing. I can do it with my regular machine, but it's slow, and hard to get it perfect. I'd like a solution that can fold it and sew it in one movement. I know such a thing is out there, I just don't know what it is! If anyone has any ideas or other sewing machine recommendations, let me know in the comments. Tell me about your sewing set-up!