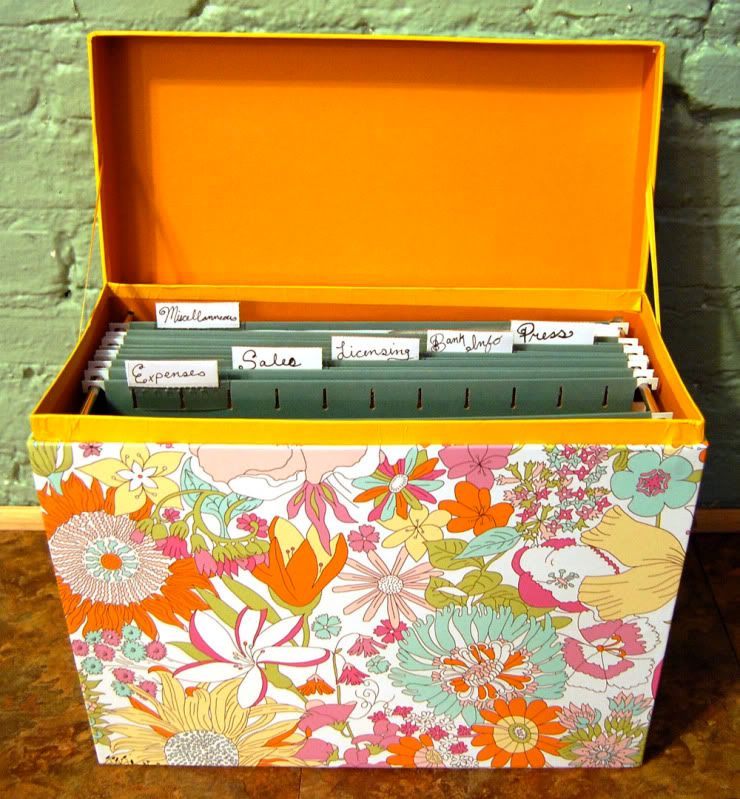 I got this super cute hanging file box over the weekend, it's a sturdy, spacious little case covered in a Liberty of London print. Prior to this, I had this flimsy little expanding file that was getting over stuffed with documents.
Everybody organizes their business paperwork differently, but there are a few categories most people will use. The categories I use are
Expenses
,
Sales
,
Licensing
,
Bank Info
,
Press
, and
Miscellaneous
. Another common category is Taxes, but for me, those get filed in our personal case.
Expenses
: This is a category most everybody will need. This is where my receipts go for supplies, materials, advertising, postage, etc. I put this one right up front so I can just drop my receipts in it. At the end of every month, I input them into my accounting excel spreadsheet, and file them in an envelope labeled with the month. It makes for much less work at the end of the year. Depending on how many receipts you accumulate, you may want to do this more or less often. At the end of the year, I take all 12 months of receipts, put them in a manila envelope labeled with the year and place them in the back of the file case.
Sales
: This is another category most everybody will need. This is where my sales receipts go. I treat these sales receipts just like I do with my expense receipts.
Licensing
: This is where I keep all of my business documentation like sales tax licenses, EIN number registration, all that fancy stuff.
Bank Info
: I stopped getting paper bank statements sent to me a while ago, you can access and print out anything that you need online. I keep a statement in this file so I have my account number, and the bank's phone number if I need it. I keep my business checks in here, since I don't use them all that often.
Press
: Pretty self-explanatory, cut-outs of magazine and newspaper articles that I've been featured in.
Miscellaneous
: Non-essential items that don't fit anywhere else but I still want to keep. Business cards from other crafters go in here too.
Getting your business paperwork organized is probably simpler than you imagined, and it saves you so much time and frustration at the end of the year when you're doing you taxes. You don't have to stick with a plain filing case either, make it fancy if you want!