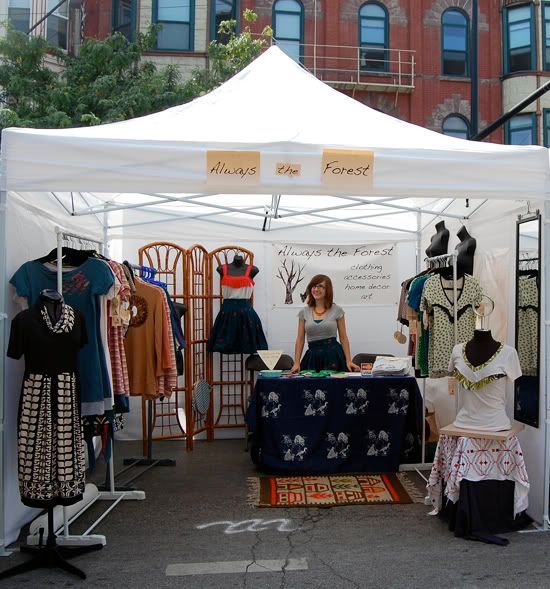 Summer is almost here, and craft show season is in full swing. This will be my third year of doing these shows, so I thought I'd share some helpful tips for those of you who might just be starting out.
1. When deciding to apply to a show, make sure you research it first! The best thing you can do is be a customer at the show the year before. Check out what types of vendors are there, and how well the show appears to be run. If you're selling quality, handmade items, you probably won't do well in a show filled with bargain imports. Ask how the organizers are promoting the event as well.
2. Promote! The organizers should also be doing this, but it helps out a ton if you also spread the word. Send out an email to your mailing list with your craft show schedule. Utilize social networks. Tell all your friends! If fliers are available, put them up around town.
3. Bring a helper. Although not totally necessary, having someone to help you out is such a wonderful thing. And they don't have to be present the entire time either, just someone you can call to bring you food, or give you a bathroom break, or to help you out with customers during the busy times of the show.
4. Double-check to make sure you packed everything! Make a list of
everything
you need to bring, and check it at least twice. Add to the list as you get more experienced. As I did more shows, I discovered little things that were really useful, so I added them to the list for next time.
5. Be friendly to your customers. Crafts shows can be grueling sometimes, but make sure you're still smiling and friendly to the people who come into your booth, or you might scare them away! Think of things you can tell people about your craft that might not be obvious from just looking at them. Half of the time, people don't realize that I make the clothing I'm selling from scratch (huge compliment on my part :D) so I make sure to tell them. I'll also mention that all the clothing is made out of recycled materials, and what those are and where they come from. But sometimes customers don't want to be bothered, and you'll be able to tell who those are, so don't inundate those people with info.
6. Be nice to the organizers. Organizing a craft show is stressful business, so be kind to them! Don't be rude if there is a mix-up of some sort, or if the weather is bad, or if something doesn't go your way. When you pack up, make sure you leave your area as clean as it was when you arrived.
7. Most importantly, have fun! Craft shows are one of my favorite things to do in this business. I get to meet so many nice/awesome/interesting people. Make sure to walk around and talk to your fellow vendors. If you're not a local vendor, take some time before or after the show to explore the city.
I am so looking forward to this summer and fall and all the awesome craft shows I'll get to do! I'll be sure to keep you all posted as soon as I get some show dates finalized.