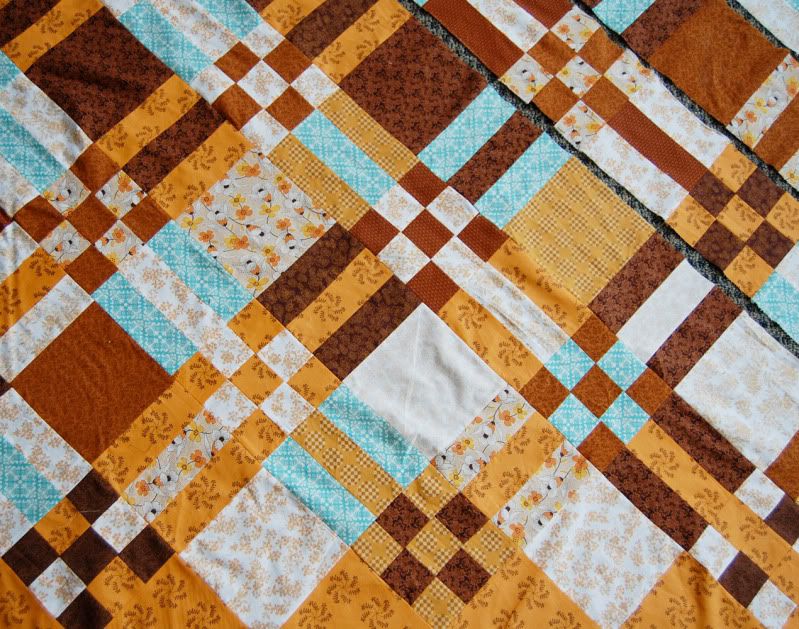 I really, really enjoy sewing. But when it's both your hobby and you workday, it can get a little tiresome. The reason why I like quilting so much is because it's very different than the design and production sewing I do for my clothing line. For my line, I'm usually doing six things at once, and learning a seventh and an eighth at the same time. There's a lot there that can go wrong! But that's what I love about this job. There's not much repetition. I'll bounce from pattern drafting to serging seams, to ironing, to resizing photos on the laptop, to going on a supply run...all within the course of a day. This is something that I thrive on. I have to plan and decide what I do next, there's no instruction sheet for me to follow. Butttttt....I have times where I just want some structure, some repetitive task to sort of zone out to while creating something pretty. That's where (simple) quilting comes in*. I'm making a strip quilt right now with my sister. She's doing the same design, different colors. The only time I need to make a decision is in the very beginning when I'm picking out the fabrics and colors. After that, it's cut out a bunch of the same sized strips. Sew together a bunch of the same sized strips. Cut a bunch of the assembled strips in three. Sew them back together. It's sooo relaxing. I can abandon the quilt for a month and pick up right back where I started.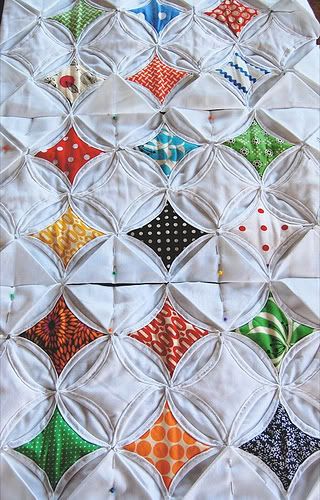 The next quilt I want to make is the Cathedral Window Quilt. It will be a really neat way to showcase scraps from other projects as the "stained glass" windows. Since it involves origami-like folding, there's no need for backing or quilting. The tutorial for this quilt is here:
http://hyena-in-petticoats.blogspot.com/2007/08/cathedral-window-quilt-tutorial.html
and photo credit goes
to http://www.flickr.com/people/paperstringcloth/
.
Another quilt I want to make is the adorable Little Forest Quilt. I really like the asymmetrical placement of the trees on the quilt. Tutorial here:
http://www.purlbee.com/little-forest-quilt/.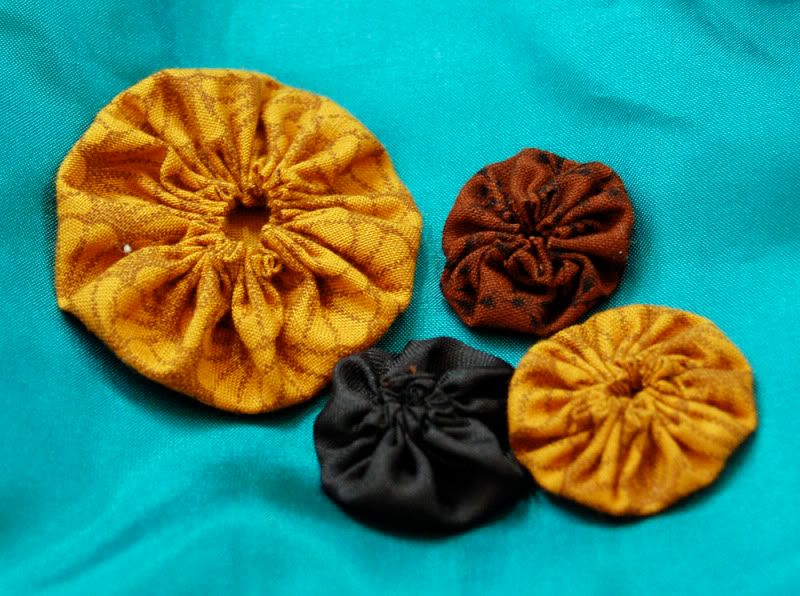 I also like making these silly little yo-yo things. You can make many different things out of them, or just use them as decorations on clothing and bags. I like the idea of making a blanket out of them. I've also seen some really cool necklaces made of four or five yo-yos of varying sizes. Here's a good tutorial on how to make them:
http://heatherbailey.typepad.com/photos/how_to_make_a_yoyo/hbyoyotutorial1.html
And if sewing just isn't doing it for me, I'll go play the piano!