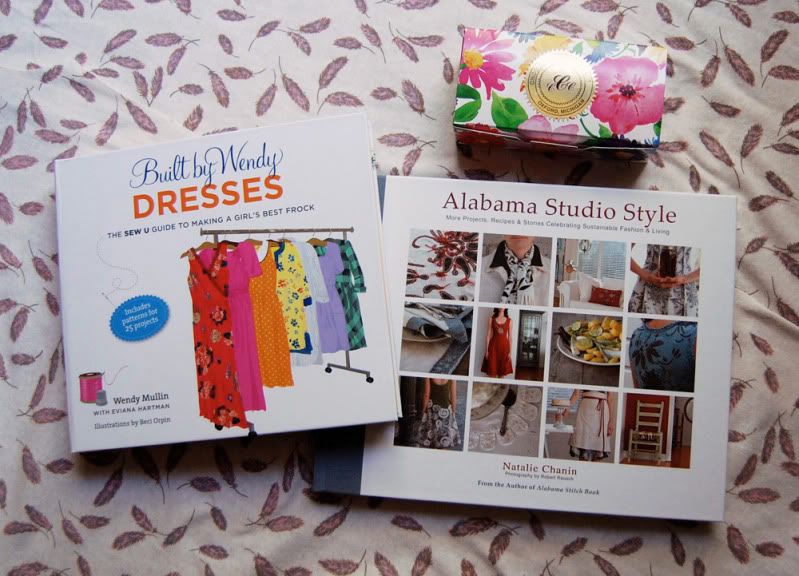 Last week was my 22nd birthday, and it was great! I got some awesome sewing books, and a box of really good chocolates (in super cute packaging) made locally in a town near mine.
I got the third book in the Built by Wendy series, this on is all about dresses. I already own
Sew U
and
Sew U: Home Stretch
, and this one looks just as good as the first two. Which I highly recommend for both beginning and experienced seamstresses. It also comes with full-sized patterns for you to use!
Alabama Studio Style: More Projects, Recipes & Stories Celebrating Sustainable Fashion and Living
is full of gorgeous projects with an emphasis on hand sewing. I want to make the red tank dress first, it's so beautiful. Hand sewing will also allow me to have a project that I can take anywhere. Machine sewing isn't exactly a super social craft...it's kind of hard to lug a big machine around with me to craft nights, so I'm really excited to finally have some portable projects.
This weekend is the Maker Faire, and last weekend was Mitten Made, so things have been really busy around here. I'm going to start working on Fall 2010 designs next week, and if all goes well, I'll have that collection out late August/early September.
p.s. If you like the feather fabric in the background of the above picture, it's being made into dresses this afternoon, and they'll be available at Maker Faire!