This top is one of my new Fall designs. It wasn't originally meant for me, it was supposed to be for sale at the Renegade Craft Fair this weekend. But...I made a huge mistake on it! I cut out the pieces with the grain going the wrong way, so it stretches along the length of the body instead of the width. I couldn't sell it like that, but it fit me fine, even with the backwards stretch. It was a happy end to a sewing mistake.
This top is a good transitional piece for Fall, since it has longer sleeves and the material is a bit thicker. When it gets colder in the evening, I wear my grey zip-up over it, and I'm good to go! And my ubiquitous cut-offs too. I wore this top almost every day last weekend (it was a four-day weekend too, haha) It's pretty much perfect!
I named it the Beatrix Top, continuing with the old-fashioned lady names. I think I'm going to switch to old Detroit-area street names now, I'm running out of ladies names, and some of the older street names are really cool. Any street name suggestions? They have to be old, and from the tri-county area.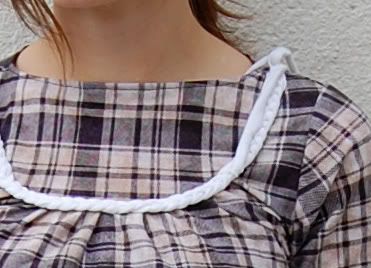 braid detail at the neckline