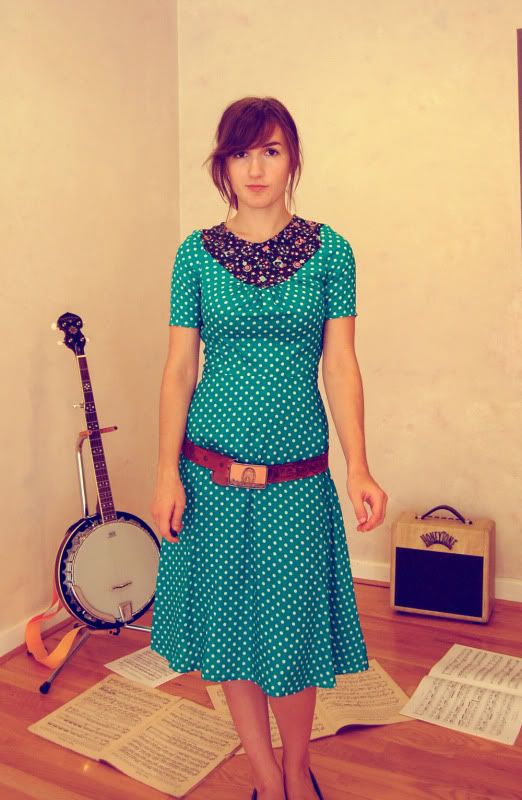 Ensemble details: dress- made by me, belt- thrift store in Ventura, CA, belt buckle-
flightpathdesigns
,
Just kidding, it's not a grumpy dress. And believe it or not, I'm not grumpy either...that's just the face I happened to make for the shot, whoops. I'm actually really excited about this dress, it's made from the first woven dress pattern I drafted. Last winter, I took a pattern drafting class at Haberman Fabrics in Royal Oak. I learned so much from it, but one of the most useful things I got out of it was a personalized sloper. A sloper is the basic pattern you start with, and you can alter it to make different styles. My sloper was a fitted bodice, a straight skirt, and sleeves. To get a full skirt from straight skirt, I slashed and spread the waist darts on the skirt to close them up top and transfer them to the bottom of the skirt. To get the yoke on the bodice, I rotated the waist and bust darts up to the yoke and turned them into a dart-equivalent seam. I do this whenever possible, I hate darts! It's tight in the shoulders because I messed up the seam allowance, I either forgot to add it on, or I may have subtracted it. But this was just a practice dress, hence the weird fabric combo (that I ended up really liking!).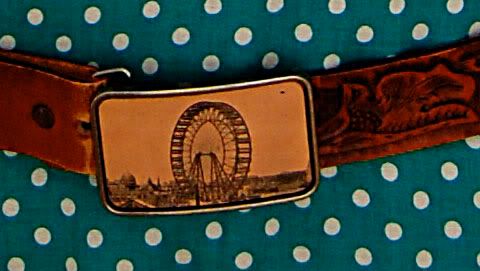 This is my favorite belt; I got it at a Ventura thrift store when we lived out in California. It looks like one of those girl scout leather stamping projects, and it says PENNY on the back. The buckle is one I've had my eye on for a while, I saw them at the first Renegade Craft Fair that I did. I didn't buy it right away because it was a little expensive, but I only need one, and it's better than the box store alternative.
When I get some time, I'm going to start working on some winter dresses. I've been super busy with store orders (not that I'm complaining) but I can't wait to start making some dresses for myself!