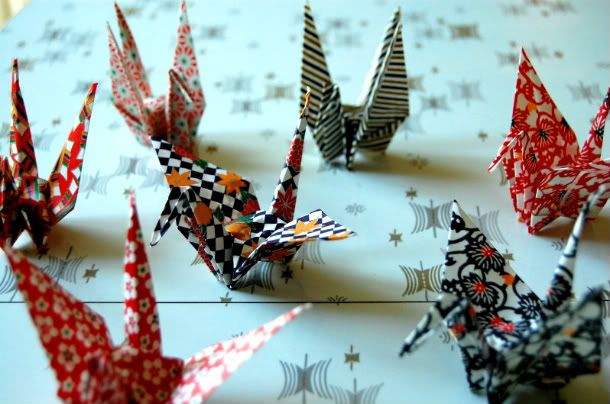 A few months ago, I wrote about how
listening to different types of classical music
can help you to really focus on your work. Now I'll share my coping mechanism for when my work is driving me nuts. Like when developing a pattern is giving me trouble, or trying to figure out the best construction technique for a garment, or when I have a million photos to edit and resize.
Origami! This art of paper folding is repetitive enough to un-irritate me, but you also end up with something cute in the end. I keep a stack of origami paper at my desk, and when I get frustrated with my work, I'll go pick out one of the pretty paper designs and fold a bird or two. The only thing I ever fold is paper cranes, I haven't really found any other design that I like as much. They will eventually be hung from the ceiling of my sewing room once the walls are re-done. You can find some really neat origami papers online, or you can use any sort of thin scrap paper.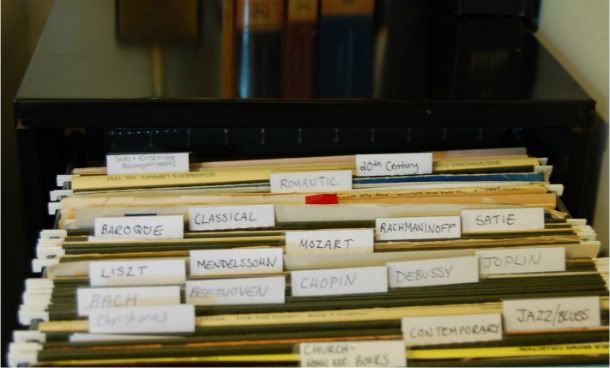 Maybe I've got a bit of the spring cleaning bug, but I've been on an organizing spree. I tackled the monster task of cataloging all of my piano sheet music and teaching materials, which is awesome because I don't waste any more time digging through stacks of music to find the materials I need for piano lessons. My fabric stash is next...
Also! I'll be a vendor at the Renegade Craft Fair in Chicago this summer, more info on that as the date draws near.