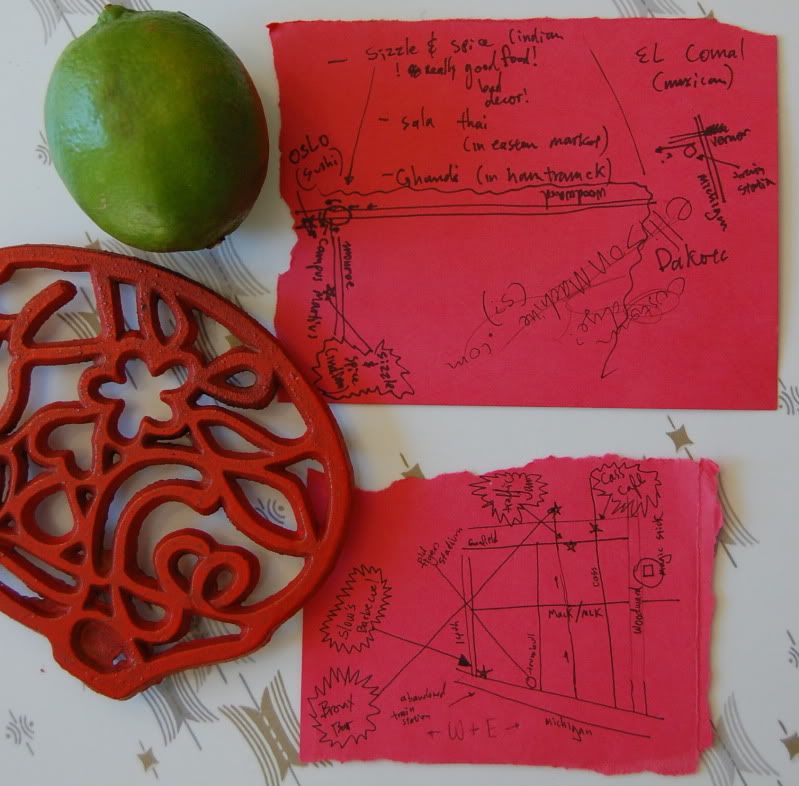 Back in 2007, one of the very first craft shows I did was the Handmade Detroit Holiday Market at the Magic Stick. I still didn't know the city very well, the only slice I was familiar with was the strip of Woodward between the DIA and the Majestic Complex. (I was only 18, give me a break!) My mom was helping me out at the show, and after the show we wanted to get something to eat. My mom grew up in Hamtramck, and we would visit every so often to go to the Polish Market and Kopytko's Meat Market. And of course, we'd eat dinner at Under the Eagle, an awesome Polish restaurant. But we wanted to try something new.
Luckily, I had some awesome booth neighbors. My neighbors were Emily and Andy, and they make household items decorated with maps of Detroit for their business,
City Bird
. They are both lifetime residents of the city, so I knew they would be the perfect people to ask. Andy asked us what kind of food we liked, and we said "everything!" He went above and beyond our request and drew us a map with all these awesome places to eat. It was like a sheet of gold for two people who love food but were unfamiliar with the city.
I kept a copy of the map in my wallet for a long time, it's pretty neat to look at it almost five years later. Some of the places have since closed, and now I can add a lot more places that I found out about later on. The crazy roads also make a lot more sense! So go to a craft show. The
Rustbelt Market
is open every weekend. Emily and Andy have since opened up their own
storefront
in Midtown. Try a new place to eat. Talk to the vendors and learn something new!